Art in Print Journal
My 2016 drypoint print, Untitled (Puddle) is illustrated in the January/February 2017 issue of Art In Print, Volume 6, Number 5
News of the Print World
p. 50
---
Global Matrix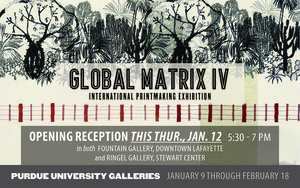 I'm honored to have an etching included in this traveling exhibit.
---
My image on the cover of Graphic Impressions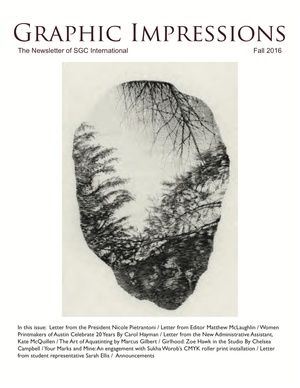 My drypoint "Untitled (memento)" is featured on the cover of the Fall 2016 issue of Graphic Impressions, the newsletter of SGC International
---
New Print showing at the EA/B Fair

My new etching, Relic, debuts at the EA/B Fair this week as part of the Traces portfolio published by Zea Mays Printmaking. Two more of my prints from previous portfolios will also be shown.

EDITIONS/ARTISTS' BOOKS FAIR
November 3 - 6, 2016
The Tunnel
269 11th Avenue, New York, NY
at Zea Mays Printmaking Booth D22
http://www.zeamaysprintmaking.com

The event is free to attend and open to the public:
Thursday, November 3, 6-9PM (first view opening, VIP + ticket holders only
Friday, November 4, 11AM-7PM (Free)
Saturday, November 5, 11AM-7PM (Free)
Sunday, November 6, 11AM-5PM (Free)
---
Autumn Exhibits
I am thrilled to have work included in several exhibitions this fall:

Beyond the Norm International Juried Printmaking Exhibition
Marking the 40th anniversary of Normal Editions Workshop at Illinois State U.
University Galleries
Uptown Normal, IL
Sept. 20 - Oct. 16, 2016
Selected by Susan Tallman
http://normaleditions.illinoisstate.edu/beyondthenorm

Small Print International
A traveling exhibit organized by Leicester Print Workshop, Leicester, England
Next stop on the tour:
The Biscuit Factory, Newcastle Upon Tyne, in partnership with Northern Print
On view Sept. 7 - Nov. 15, 2016
http://www.thebiscuitfactory.com
http://www.northernprint.org.uk/home.html
All prints from the show can be viewed and purchased online: https://shop.leicesterprintworkshop.com/

BIMPE IX
Biennial International Miniature Print Exhibition
Federation Of Canadian Artists, Vancouver, BC, Canada
On view Sept. 20 - Oct. 1, 2016
The show travels to three more venues through January 2017: Dundarave Print Workshop, Vancouver, UBC Okanagan, and finally to SNAP Gallery, Alberta. http://www.bimpe.com/bimpe-viii-galleries/

MAPC Members' Exhibition 2016
in conjunction with the Mid-America Print Council's Print Matters Conference
Carnegie Center for Art and History
New Albany, IN
Sept. 30 - Oct. 15
http://www.midamericaprintcouncil.org

---
---
Small Print International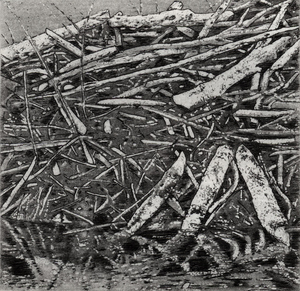 I am pleased to announce that three of my recent etchings have been selected for Small Print International, a juried exhibit organized by the Leicester Print Workshop and scheduled to tour six venues in the UK through 2017. All work is also available for purchase through the Leicester Print Workshop online shop.

Attenborough Arts, Leicester
May 6 - July 7, 2016
http://www2.le.ac.uk/hosted/attenborougharts

The Biscuit Factory, Newcastle Upon Tyne
September 2 - November 15, 2016
http://www.northernprint.org.uk/home.html

---
2016 DNSPE
Delta National Small Print Exhibition
Bradbury Art Museum
Arkansas State University, Jonesboro
January 28 - Frebruary 28, 2016

My drypoint print, "The Gloaming" is included
---
Sixty Square Inches
18th North American Small Print Exhibition
Purdue University Galleries
West Lafayette, Indiana
January 11 - February 20, 2016

I have two intaglio prints included
---
SAGA Centennial National Exhibition
Society of American Graphic Artists
Centennial National Exhibition
Art Students League
215 West 57th Street
New York, NY

On view: October 22 - November 6, 2015
Reception: October 22, 6 - 8 pm
---
1st Annual Miniature Print Exhibition at MGC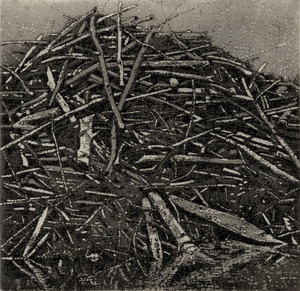 1st Annual Miniature Print Exhibition
Manhattan Graphics Center
250 West 40th Street, 5th floor
New York, NY
On view November 1 - December 18, 2015
Opening Reception: November 6, 6 - 9 pm

Three etchings from my Lodge Series were selected for the exhibition by Sarah Suzuki, Curator of Prints, Drawings and Illustrated Books at MOMA
---
Tokyo International Mini-Print Triennial 2015
Tama Art University Museum, Tokyo, Japan
September 26 - November 8, 2015

I am very pleased to announce that my print, Lodge III, has been selected for inclusion in the upcoming Tokyo International Mini-Print Triennial 2015.