2020 MAPC Members' Juried Exhibit
2020 MAPC Members' Juried Exhibition
Center for Visual Arts Gallery
Kent State University
Kent, OH
October 6 - November 13, 2020
I have an etching included in this show slected by artist Imin Yeh
---
The Hand Magazine, Issue 29
Two of my recent etchings, Summer Stick Pile, Winter Stick Pile and an artist's book, Underhill (Rootcave), are featured in Issue 29 of The Hand Magazine, published in July, 2020.
---
Megalo Intaglio Online Exhibition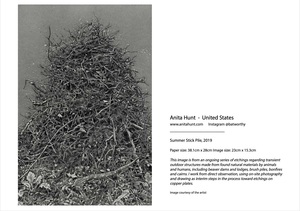 Megalo Intaglio Online Exhibition
August 4 - September 5, 2020
My etching, Summer Stick Pile, was selected for inclusion in this beautifully curated show of work by 40 international printmakers. A PDF catalogue is available to view and download on the website.
---
One After Another
One After Another
Work by Zea Mays Printmaking Member Artists
February 10 - April 10, 2020
William Blizard Gallery, Visual Arts Center
Springfield College
Springfield, MA
I have 4 recent etchings included in this show curated by Jessica Poser.
---
Awagami International Miniprint Exhibition
Hall of Awa Japanese Paper Museum
Tokushima, Japan
October 5 - Novemeber 10. 2019
I am particpating in this biennail exhbition for the second time with a new etching, Winter Stickpile, printed on handmade washi paper.
---
SAGA 85th Members' Exhibition
Newark Public Library, Special Collections
Newark, NJ
September 23 - December 31, 2019
I was thrilled to receive the Blick Art Materials Purchase Award for my etching, Lodge XI. The prize juror was artist, Richard Estes. My piece will go into the library's permanent collection and also the Blick Art Collection at the close of the show.
---
---